Jarvis Legal: An unconstrained digital world
There are times when the only priority for lawyers is to devote themselves exclusively to satisfying their clients. Whatever the size of their firm, lawyers may now leave aside all those nagging IT constraints thanks to Jarvis Legal. A journey into the heart of an innovative and ambitious company.
How would you like to have 30% more time to devote to your professional activities and let someone else handle the drudgery? Even better - how would you like to have at your disposal Iron Man-level artificial intelligence to handle all your IT issues? Well, you can do both with Jarvis Legal, a specially designed suite of solutions for law firms, where lawyers can use automatic features to handle emails, generate personalized documents, track billable hours and issue invoices. The original software was created about six years ago by Alexandre Yeremian (CEO). He thought about about his career aspirations when he was working for a large car manufacturer. His first experience with entrepreneurship resulted in the creation of an IT maintenance company which he sold afterwards. Now he is concentrating solely on developing innovative software that can be used anywhere and at any time (with or without an internet connection). 
All-in-one legal practice management software 
Handling the details when law firms started to face new challenges, like mobility and collaborative work, it was clear that there was a dire need for a new generation of practice management software. Jarvis, the first cloud-based, all-in-one legal practice management software, was developed in Paris by a small development team of four. It is based on the observation that clients were often dissatisfied with the services provided by their lawyer, issues such as poor matter follow-up, poor communication and a lack of transparency on tariffs.
"Jarvis Legal has a presence in over 30 countries and more than 7,000 users"

This was why the company designed a solution to automatize all tasks that do not necessarily have added value for the client. While lawyers focus on their clients' needs, Jarvis takes care of the rest! "Thanks to our solution, lawyers can regain control over the client relationship," says Alexandre Yeremian, "they can take their practice everywhere with them," making exchanges with clients more fluid. Jarvis' solution also helps law firms to adapt to new regulatory requirements, such as the GDPR, by outsourcing the risk, and invoicing, sometimes done 'the old-fashioned way' is modernized as clients can access the invoices and pay directly online: reducing non-payment risks. Jarvis' solution also allows lawyers to know their financial KPIs, thanks to different real-time reports provided, freeing them time to innovate on commercial aspects notably. The company provides itself with the means to achieve its ambition thanks to a strong growth strategy, investing heavily in sales, marketing and the acquisition of new talents. 
Multilingual and multi-currency, with offices in Houston, Texas and Paris as well as users in more than thirty countries, the company intends to conquer the world with the opening of new offices in Europe, Asia and Middle East and extend its offer to professions other than lawyers. In Africa, Jarvis Legal wants to equip courts and ministries of OHADA countries with a management solution allowing them to centralize the processing of a case during a trial. The project has already been deployed in Mali and discussions are ongoing in other countries. To satisfy its users from around the globe, the company also works with local partners, enabling it to remain independent of local legal practices and possible constraints. 
Optimum service
Getting ready for the future, Jarvis Legal offers a management system suited to legal firms of all sizes, consisting of an optimum service for managing billable hours, invoicing, the ability to work off line via mobile applications, the capability to share files, to handle trust accounting, the handling of reporting and email synchronization. According to the CEO of Jarvis Legal, Alexandre Yeremian, "our strategy to anticipate what the future needs for lawyers would be paid off and we now have an agile and flexible product with an incredible potential for innovation and adaptability based on our clients' needs."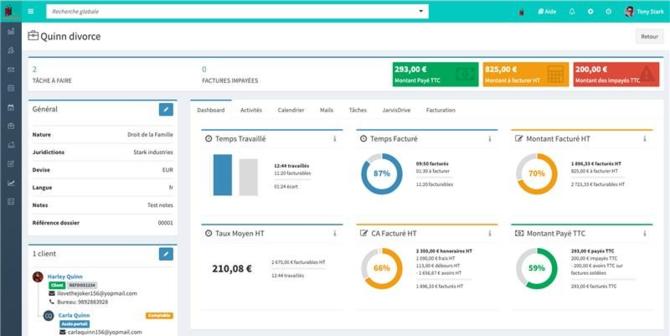 Jarvis Legal is based on cloud technology, which means that the software runs entirely on a hosted basis freeing its users from their infrastructure. No equipment to buy, no software to install, no maintenance costs. It is also the best choice to ensure the security and mobility of data and users. The solution also works off-line via Jarvis Box, which allows users to access to their documents at all times.  It is highly customizable depending on each practitioner's activity, "we want lawyers to use it like a phone: the same technology but with different uses depending on the people," specifies Mr. Yeremian. 
The software is supported by all major operating systems, with options available for iOS and Android. The subscription plan can be per user per month or per year and the system is available in several versions depending on the choice of options taken concerning the amount of storage, the number of cases or indeed, the bouquet of functions required.  
An interview with Alexandre Yeremian, CEO, Jarvis Legal
To gain in productivity, quality, agility, as well as credibility, this is what Jarvis Legal promises its users. A highly customizable technological solution, the software supports lawyers in the development of their client relationships. Leaders League spoke with its founder and CEO. 
Leaders League. Since the creation of Jarvis Legal six years ago, how have you seen the legal market evolve?
Alexandre Yeremian. The legal market is increasingly competitive. In Paris alone, the number of lawyers increased from 42,000 to 68,000 between 2003 and 2018, with a significant explosion of niche firms. Years ago, lawyers were what I would call 'price makers', meaning they could impose their prices and work rhythm, setting the pace of the business relationship. This is no longer the case, the lawyer has become a 'price taker', with client setting the conditions. According to a study conducted by Mon-avocat.fr, 87% of French people are unsatisfied with the relationship they have with their lawyer, bemoaning the lack of follow-up on the files, poor communication and a lack of transparency on billing. New technologies offer unlimited potential to improve this customer relationship: thanks to Jarvis, a lawyer can free up time to concentrate on activities with high added value, in an increasingly competitive market.
Do you feel that lawyers are aware of what technology can offer them?
After a long period of legaltech like us preaching in the desert about law firms' needs to digitalize themselves, this awareness is now felt almost everywhere. Most of them have made good progress in their modernization, especially large anglo-saxon firms. Big French firms are a little bit more cautious, and many rushed to create their own internal solution that they now have difficulties to develop.
We have identified two different phases for us to perfectly evolve with the market. Starting with modernization, meaning that law firms should take advantage of the innovations at their disposal to automate all the tasks that no longer offer value to the client. Technological tools like Jarvis allow lawyers to better balance their professional and personal lives, since they are more flexible and can have access to their files from everywhere they go and better communicate with each other. In a firm of eight partners for example, we realized that they often do not know how their colleagues work: it feels like eight firms are coexisting. Jarvis is useful in this context to enable them to share their best practices.
"Thanks to Jarvis, a lawyer can free up time to concentrate on activities with high added value, in an increasingly competitive market"
Our solution also allows firms to be more attractive for younger generations and to better retain them. Then we identified what we have named the transformation phase. After having understood the importance for them to modernize and take a digital turn many lawyers have subscribed to a lot of software (a networking platform, a billing platform, a predictive justice platform for example) that coexist with each other but are not related. The lawyer then finds himself having to enter the same information on everything he has subscribed, losing time and effort. We see this especially in the United States, where the technological shift has taken place earlier than in France. To avoid this loss of time, we at Jarvis have been able to evolve from a management system to a management platform.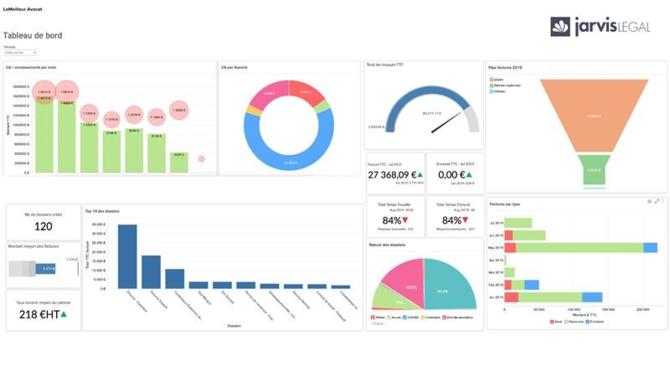 Can your software adapt to the practice of each lawyer?
Our solution is standardized but highly customizable. We want lawyers to consider our solution like a phone. They all have the same model but can download the applications they like, use it differently according to their needs.
The legaltech market is more and more abundant. How to remain competitive?
It is true that many legaltech have emerged over the past two years. My deep conviction is that those who address a specific market will have a hard time succeeding. It is difficult to imagine a lawyer subscribing to 15 different online services for each of his needs. In my point of view, in line with what I said above, it is necessary to make all these applications to work together so the information can go to where it has the most value for both lawyers and their clients. Also, many startups see the light of the day but this does not mean they will survive in this competitive market. According to the Maddyness 2019 barometer, the average ticket for legaltech fundraisers is €500,000, allowing them to last for a relatively short time, especially since the sales channel with lawyers is very long. Indeed, lawyers often take time for reflection, decide in a collegial way, so you must be very well funded to last in this market.